Upgrading from Drupal 6
Submitted by
Revanth Datla
on
Mon, 12/05/2016 - 15:06
When Drupal 6 was released in 2008, it was major accomplishment of Drupal's Open Source community. It really established Drupal as the leading CMS platform with nearly unlimited extensibility. And the Drupal ecosystem flourished with thousands of contributed Open Source modules and themes. But that was almost a decade ago. Since then we have witnessed a massive adoption of Drupal in media, government, education, and the enterprise businesses. Drupal 7 further built upon the success of Drupal 6 architecture and the ecosystem. But with the release of Drupal 8 in late 2015, Drupal 6 became unsupported. What does it mean? That means no more security patches from Drupal core development team. Most contrib module developers have also turned their attention away from maintaining D6 version of their modules, and are focusing on D7 and D8.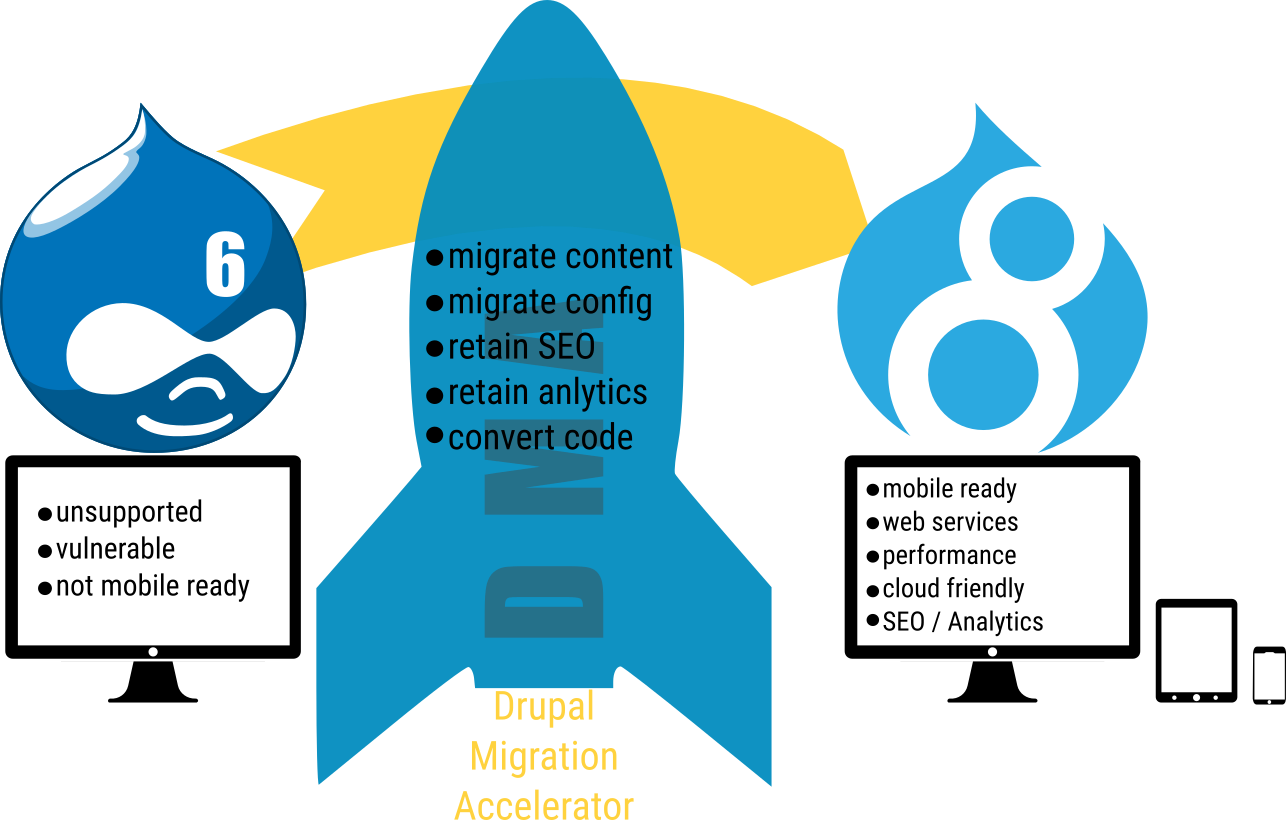 Why upgrade from Drupal 6?
This poses a significant challenge to existing Drupal 6 sites. The sites are vulnerable to attacks and the code is not kept up-to-date or supported. But our customers have years of content, SEO, analytics, user-base and other enterprise assets locked into their D6 sites. It is imperative for us to help them keep those assets and their investment in D6 intact, and migrate them over to the current and supported versions of Drupal - namely D7 or D8.
Why Drupal 8?
Drupal 8 is the one of the significant upgrade in the history of Drupal with key changes to its foundation. It comes with a set of 200 new features and is available in 100 languages. With its mobile-first approach, themes have responsive design built-in. And all content is accessible via a REST API, which eases application integration, development of mobile apps, and headless Drupal. Also, the administration console is mobile ready, which makes it possible to manage your sites on the go. The enhanced caching in Drupal 8 provides a improved performance while accessing the content. The configuration data is stored as files, which means deploying configuration changes from QA environment to LIVE is just a matter of copying files. All this adds up to reduced costs, faster performance, and improved customer engagement.
How to migrate?
While migrating from an existing version of Drupal (D6) to another version (D7/D8), we want to retain all content (pages/posts/nodes), user accounts and their profiles, uploaded files and assets, and all configuration items (views/content types/text formats/displays/etc.) Also, it is very important to preserve the relationships (references) between aforementioned entities. We accomplish this with our robust and efficient Drupal Migration Accelerator built over the years migrating dozens of sites. The Drupal Migration Accelerator is built on top of migrate/migrate_d2d module and a library of drush scripts. It reduces costs by speeding up the migration process, and making it more reliable. Additionally, it is very likely that the customer would like to reuse the custom modules developed previously, for which we update old code to use the new API. Once again, the Drupal Migration Accelerator scripts help automate parts of this process.
And now, the silver lining.
All these issues might look rather daunting, but our customers see opportunities among challenges. This is their chance to enhance functionality, enrich user experience, improve performance, security, SEO & analytics to expand their business in the brave new world of mobile and cloud. We encourage you to leverage the power of Drupal 8 by upgrading from Drupal 6 while keeping your content and other enterprise assets.
Why us?
Founded in 2010, SpinSpire is a team of Drupal experts in Jacksonville, Florida (USA) with proven record of delivering high performance Drupal sites. We specialize in migrating from other CMS or older Drupal versions to the latest version of Drupal. Our Drupal Migration Accelerator is a proprietary process and a code library built over the years migrating several clients. This helps deliver success and all the benefits of Drupal 8 to the clients in a compressed timeframe and at a lower cost. But in addition to migration, they get better user experience, more engaging and appealing sites, improved performance, security, SEO & analytics. In short, customer delight!
Drop us a line if you have any questions. In the spirit of Open Source, we love to share our experience and knowledge.